cyberspeed News
Longest Day Book Launch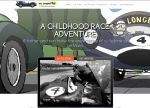 cyberspeed is proud to be part of "The Longest Day" book by Chris Workman. Chris Workman. cyberspeed will be providing web development and will assist with eCommerce setup once when ready to activate.
Chris Workman, a former cyberspeed partner, decided to write a book about a father-son bonding trip to the 1956 24 Hours of Le Mans. When Chris asked if we wanted to build the website and help promote the project, we signed on immediately.
David Murry Motorsports Relaunch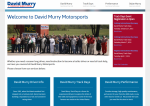 We just launched a new website for David Murry Motorsports. The site has also been expanded to incorporate his newly launched "David Murry Performance" which provides track side support for his clients. We are currently working on integrating DylanMurry.com to the website and should be launching that within the week.

Website: www.DavidMurry.com
cyberspeed launches ihra.com, nitrojam.com and thunderjam.com
Instead of building three websites, we built one major website that feeds three websites each having their own template and domain name. The three sites can share information without having to copy the information. Information is submitted once then automatically distributed.
Read more: cyberspeed launches ihra.com, nitrojam.com and thunderjam.com
Two New Series Clients
International Hot Rod Association
cyberspeed is busy building a new website for the International Hot Rod Association. The client is not actually new, our client Palm Beach International Raceway recently purchased the series and we are in the process of revamping the entire site.
To get a sneak peak see IHRA Test Site >>>
North American Road Racing Association
cyberspeed is in the process of adding some upgrades to the current website www.narraonline.com.
Mobil 1 Twelve Hours of Sebring
Along with updating team and driver websites, We will be updating throughout the week with coverage from the media conferences and other interviews. Below is an interesting report from Scott Atherton from the Sebring test earlier this month:
Check out our new video site: www.cyberspeed.tv for all of the event coverage.
Rolex 24 at Daytona
Follow all of the action from Daytona. Below are some of our clients that are competing:
You can also catch some of the action on www.cyberspeed.tv.
Porsche Rennsport Reunion

cyberspeed heads to Mazda Raceway Laguna Seca to cover the Porsche Rennsport Reunion lV on October 14-16, 2011. The event is only held once every three years and this will be the first time the reunion will be held on the West Coast. The event features historic race cars from the past and will also feature the North American debut of the 2012 Porsche 911.
cyberspeed Launches Video Website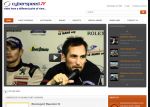 cyberspeed.tv is a new venture for cyberspeed which was launched in September of 2011. The website serves both to highlight some of cyberspeed's latest videos as well as provide coverage of events it attends.
cyberspeed goal is to provide "Video from a Different Point of View." The focus is to get the viewer as close to the action as possible.
Fresh Look for cyberspeed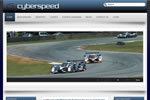 cyberspeed is in the process of updating their marketing materials for 2012. The new website has just been completed and the rest of the marketing material will be soon to follow.
cyberspeed prides itself on creating websites that stand well over time and the last version of the corporate site was no exception but has been due for a facelift and software upgrade for a long time.