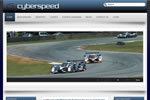 cyberspeed is in the process of updating their marketing materials for 2012. The new website has just been completed and the rest of the marketing material will be soon to follow.
cyberspeed prides itself on creating websites that stand well over time and the last version of the corporate site was no exception but has been due for a facelift and software upgrade for a long time.
The last template was designed in 2001 and has served well but as technology changed it became necessary to update the website and give it a fresh look. There are a few other websites that were designed around the same timeand we will be working on rolling out fresh designs for those websites as well.
If your website needs a fresh look and some of the latest technology, feel free to contact us.